carnel 33 (The Passover Feast Part One: The Beginning)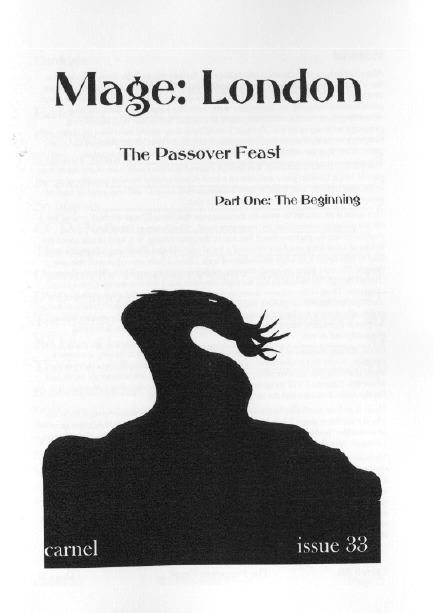 You can read a PDF sample version of this issue. The sample has the covers, contents page and a selection of pages from the articles.
Part One of a three part series. Introduces the themes and ideas behind the campaign
Contents
Editorial

The difficulty of a Mage campaign.

Edition Shock

Review of the different sets of Mage rules that are available.

Inspiration

A look at the books, music and films that have inspired the Passover Feast.

Synopsis

Overview of the campaign.

The Nephandi Spirit

Description of the campaign's main antagonist.

Opening the Passover Feast

Hooks to involve characters in the opening action of the Passover Feast.

DVD Imagery

A set of suggested images for the campaign's DVD McGuffin.

The Nature of the Dark Spirit's Enchantment

An overview of what the Nephandi's curse does and how it does it.

No Literal London

Advice on trying to present the metaphysical instead of the physical city.
Enough! You've convinced me how do I get hold of an issue?
Print Runs
First run (03/12/2006): Unknown number of issues for Dragonmeet