carnel 31 (Lustria Regained)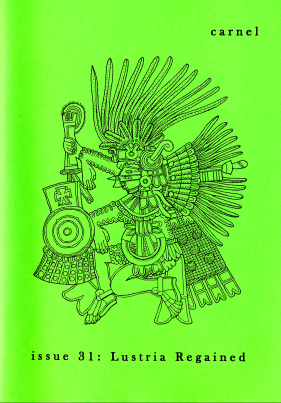 You can read a PDF sample version of this issue. The sample has the covers, contents page and a selection of pages from the articles.
Contents
Editorial

A brief discussion of the mess that Black Industries is making of WFRP fan-writing.

Why Travel to Lustria?

Reasons for leaving the Old World.

The Colony of Skeggi

A brief description of the town of Skeggi where the Norsemen live side by side with the Slann.

Members of the Slann Empire

Rules for creating Slann, Skink, Lizardmen and other Imperial characters.

Races of the Slann Empire

A quick overview of the various racial members of the Empire.

Careers/New Careers/New Equipment and Armour

The "crunch" material, offering ways of adapting the material seen in Warhammer to WFRP V1 rules.

Religion in the Slann Empire

An overview of religious issues within the Empire, particularly since the rise of Sotek.

Gods of the Lizardmen

An overview of the various elements of the Slann and Lizardman pantheon.

Monsters of Lustria

Stats and descriptions of the various characteristic monsters that inhabit Lustria.

The Amazons of Southern Lustria

Robin Low reviews the information that we have on the Amazons from their Eighties appearance in the Citadel Compendium.

Monkey's Place

The usual slow-burning debates laced with a little slow-moving passion. Or the letters page in other words.
Enough! You've convinced me how do I get hold of an issue?
Print Runs
First run (03/12/2005): Unknown number of issues for Dragonmeet
Second Run (??/12/2008): 6 issues (for British Library deposit)
Third run (16/12/2008): 5 issues