carnel 25
This issue is a Glorantha special with a big review of the newest Glorantha ruleset Heroquest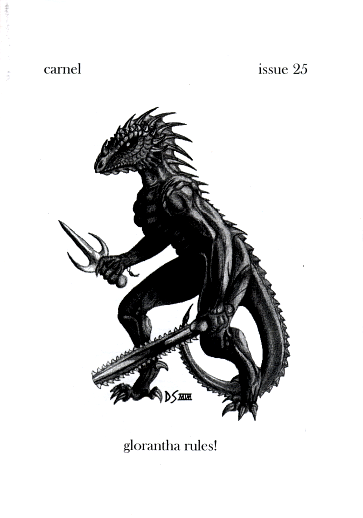 Contents
Heroquest Review

A long review of the new updated Hero Wars rules.

Pendragon Pass

Review of David Dunham's fusion of Pendragon and Glorantha.

Exalted Glorantha

A short but to the point article on the possibility of using the Exalted system for Glorantha games pitched somewhere between Heroquest and Runequest.

Guerre des Heros

A write up of a game of Dragon Pass (Guerre des Heros by Oriflam) and some advice on playing the game.

Zine Reviews

There are a lot of zines around at the moment and most of them are reviewed in this issue.
Enough! You've convinced me how do I get hold of an issue?
Print Runs
Ashcan Run: 30 (Dragonmeet 2003, signed, numbered, paper covers)
First Run: 10 (card covers, minor layout and content changes)
Second Run: 4 (30/11/2004, 100gsm card covers)