carnel 20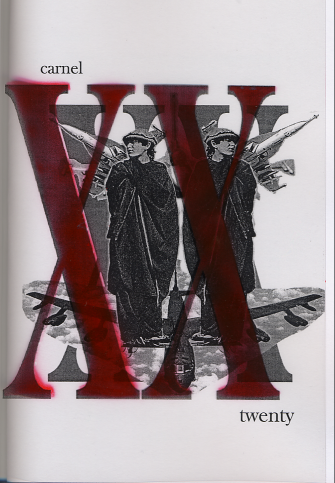 Contents
Editorial

Talking 'bout War

St. Patrick's Day, New York

Thoughts about terrorists and freedom fighters

Electronic Dream God

A long article discussing the relative merits of web and paper zines.

LA Mage

A Mage cameo presented in faux found material.

Monkey's Place

Comments and a long letter from Paul Mason on the subject of historical and culture roleplaying.

War Reviews

A wide variety of material on war related matters including Joe Sacco's Palestine, films and books about Yugoslavia, Blairite government and Irish Terrorism

Christmas Books

Let me tell you what to read.

Godspeed you Black Emperor

A review of the latest album from the Canadian collective GSYBE, Yanqui U.X.O.: music to war to!
Enough! You've convinced me how do I get hold of an issue?
Print Runs
First Run: 20 (Hand finished covers, red interior paper)
Second Run: 20 (Red interior paper)